Update of Amazfit T-Rex 2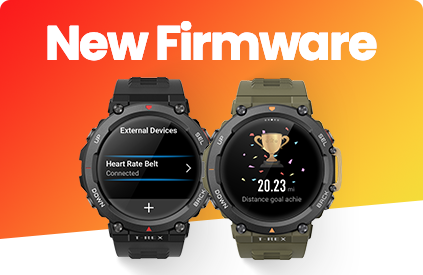 This update of Amazfit T-Rex 2 brings you a new optimized version with the following details:
1. Support external device - heart rate band. After enabling external heart rate band, the source of heart rate data of the watch will be changed to heart rate band. After the heart rate band is disconnected, it will continue to use the data of the watch itself (Path: Settings > Workout accessory > Connect ).
2. Conditional Pause, the operation is only valid once. When the workout goal is completed, it will automatically enter the pause state (Path: Any workout > Assistant > Workout goal > Conditional pause)
1. Optimized the automatic motion recognition algorithm, which mainly improves the accuracy and timeliness of entry motion.
2. Optimized workout heart rate algorithms.
3. Optimized maximum oxygen uptake algorithms.
4. Optimized pool swimming trip algorithms.